"The British Are Coming! The British are Coming!"
Approaching it's third year since Wyoming legalized it, the ancient art of bare knuckle boxing has been steadily making a resurgence. Now legal in states like Florida and Mississippi, bare knuckle boxing is appealing to MMA fighters looking for a diversion, retired fighters looking to relive old glory, and Journeyman Pro Boxers who think that they can beat up MMA fighters and that bare knuckle is their world.
The American Bare Knuckle Scene is largely propped up by the American South and chunks of the midwest.
Meanwhile, over in the United Kingdom where bare knuckle traces much of it's original seventeenth century origins, the sport is legal throughout the entire territory. Even though British Regulatory Commissions take no part in regulating bare knuckle, there is a rich culture of it and plenty of skilled, proud warriors to represent it.
That being said, let's get freakin' real okay? What really got the public's interest…okay mainly my interest, was the spectacle of it all.
You got ex UFC fighters fighting washed Pro Boxers. You got MMA legends fairly past their prime fighting adult film actors. Joey Beltran (18-15 MMA, 4-1-1 BKFC) and Luis Palomino (33-16 MMA, 2-0 BKFC) both had reputations as MMA journeymen that lost to the very best but are now decorated Champions at Bare Knuckle Fighting Championship.
December 11 will grace us with a brand new BKFC card. This time, the theme is USA vs UK, a tried and true fight card theme! The co-main event features American MMA legend and wild man Charles "Felony" Bennett (30-41-2 MMA, 0-2 BKFC) vs British part time porn star/part time Pro Boxer Tyler Goodjohn (13-5 Boxing). With Bennett set to knuckle up with an adult film actor, I guess you can say that "The British Are Coming" officially has a WHOLE OTHER MEANING NOW, Whoa man!
Our Heavyweight main event features Valor Bare Knuckle Heavyweight Champ Mark Godbeer (13-5 MMA. 3-0 Bare Knuckle) coming to BKFC to take on "Hillbilly Hitter" Sam Shewmaker (5-1 Boxing, 3-1-1 BKFC) in a Title Eliminator, The victor in The Squared Circle that night gets to face Joey Beltran for the Heavyweight strap.
November 27, Godbeer posted a picture on Instagram of paramedics on scene at Valor Bare Knuckle swarming over Jack "The Outlaw" May after getting flattened with Godbeer's thunderous right hand. The caption reads, "Seen so many vids advertising Shewmaker as the hardest hitter in @bkfc, yep everyone has an opinion. I guess Dec 11 we will see".
After watching both of their collective bare knuckle bouts, I come away with the impression that these Heavyweights are very well matched. That being said, I also believe Sam Shewmaker potentially has his hands very full. Plagued with split decisions in his bare knuckle career in victory and defeat, Shewmaker has demonstrated amazing knockout power but has difficulty with fighters who have superior range and when he is outsized.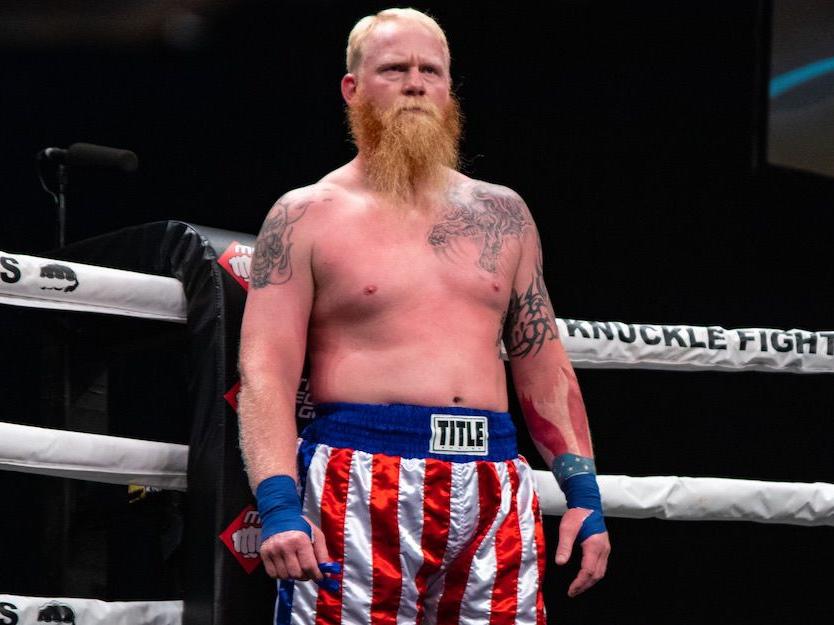 Godbeer shows a knack for parrying punches and getting inside quickly. Godbeer also seems gifted at leading the fight and dictating the terms. Being first.
No matter how it goes, both of these Squared Circle conquerors have a fight on their hands and the co main is a fun, good ol' fashioned sideshow fight. The British have an enormous presence in bare knuckle boxing but I'm truly excited about the scene that's brewing here in The States. There's plenty of potential to catch up with the British fandom and nights like BKFC 15:The British Are Coming usher in fun new eras in combat sports. Check out BKFC 15 on the BKFC app on December 11.