The UFC and Jon Jones were butting heads this week (not for the first time, of course). Jones has had no problem in speaking out about what he believes he deserves to be paid. Directly after Francis Ngannou knocked out Stipe Miocic to capture heavyweight gold, 'Bones' took to social media, tweeting 'Show me the money'. Since then he has revealed he had conversations with the company regarding a super-fight with the new champ. These talks did not go to plan at all, as we saw on the long-reigning 205 champ's twitter account.
However, this situation has caused a much larger conversation within the MMA world. That is the issue of fighter pay. This is one of the biggest critiques of the UFC for a long time now.
An article by Alexandra Steigard of The New York Post showed that just 16% of the UFC's revenue in 2019 went into the fighter's pockets. Compare this to the NFL, NBA and MLB, where players pocket between 48-50% of their respective league's revenue. Now what do these 3 leagues have in common? They all have players unions, which negotiate things such as pay with the leaders of the league. So, it is truly a mystery why UFC fighters have not come together and unionized. 
It is a travesty that many fighters in the premier MMA fighting company have to work second jobs to put food on the table. Pay was poor before the Reebok deal, but at least they had many, many more opportunities to make money from short sponsors. The Reebok deal completely took an important source of income from the fighters, and replaced it with a terrible pay scheme.
There seemed to be light at the end of the tunnel as the Reebok era was beginning to come to an end. But instead of letting fighters make a little more money, the UFC decided to sign a deal with Venum. Fighters were still holding onto hope that maybe Venum would be fairer with their fighter pay-out. Until this week, when the figures were released. Every future debuting fighter leapt up with joy when they found out they would make an extra $500. Also champs rejoiced with the thought of an extra $2,000.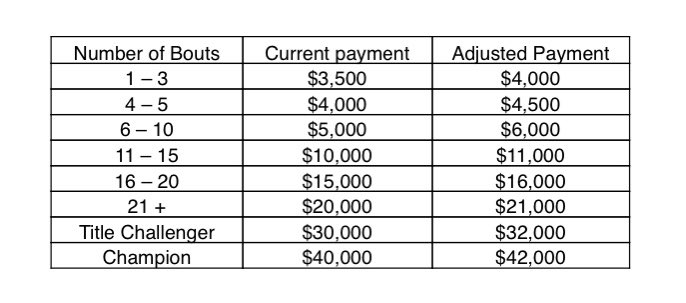 Fighter unionization is essential and must be endorsed by the biggest names in the sport. With the amount of weight Jon Jones' name holds in the sport, it would be a great opportunity for him to bring the idea of unionization to the table. I believe it would only take a few elite-level fighters to get the ball rolling. In the end, this would force the UFC's arm and pay will improve.
We have seen this in every other major American sports league. Although once you get in the cage, MMA is an individual sport, everyone must come together for this much needed change in the sport. It will be interesting to see how this plays out.