Who doesn't like a good rivalry? I know I sure do and the UFC does too! The UFC is home to some of the greatest rivalries in combat sports history but which rivalries are the best? Here are my top 5 rivalries in UFC history.
5. ANDERSON SILVA VS CHAEL SONNEN
Anderson Silva is regarded as the greatest Middleweight champion the UFC has ever seen. Silva seemed unstoppable knocking out everyone left and right…until he faced Chael Sonnen.
Sonnen was on a three-fight win streak when he faced Silva in 2010 and came into the fight as a +300 underdog. As soon as the fight started Sonnen was dominant until the last round when Anderson snuck in a triangle choke and submitted him with 1:50 seconds left to go in the 5th round.
But the feud did not end there. A year after their famous fight, in a post-fight interview, Sonnen makes one of the most famous call-outs in UFC history.
"Anderson Silva you absolutely suck"!
The second fight comes along and Chael throws the worst spinning back fist of all time and gets finished within the 2nd round.
4. DOMINICK CRUZ VS. URIJAH FABER
The rivalry between Dominick Cruz and Urijah Faber stems all the way back to the WEC days in 2007 when Urijah Faber was champion. The first fight showed a young Dominick Cruz only 7-0 get submitted in the 1st round.
Fast forward four years later and Dominick Cruz is the first Bantamweight champion in the UFC and Faber is still on top of his game. The loss to Faber was Cruz's only loss in his career at that point and Faber was not letting him forget that. Come UFC 132 (their second fight), Cruz and Faber put on an amazing performance but in the end, Cruz took the fight by unanimous decision.
Finally 5 years later, in 2016, Cruz vs. Faber 3 shows the world that the Bantamweight division is not to be slept on. Both fighters put on a fantastic show going all 5 rounds and moving at a pace that would make a heavyweight faint just by watching. Dominick ends up winning again by unanimous decision and puts an end to their epic trilogy.
3. CHUCK LIDDELL VS. TITO ORTIZ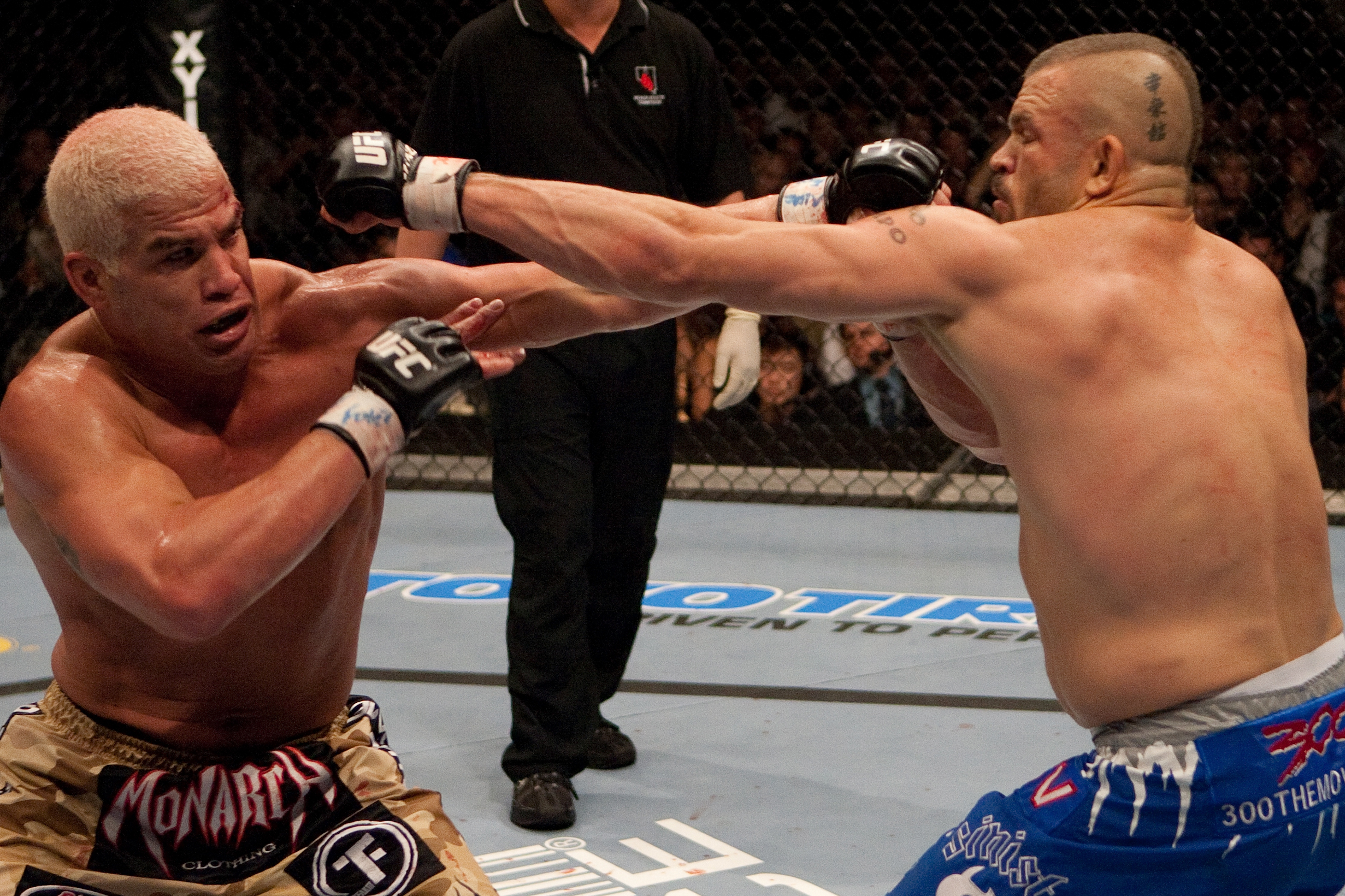 Chuck Liddell vs. Tito Ortiz is one of the first and most famous rivalries that occurred in the UFC. Both fighters were top of their divisions and both feared by everyone. Liddel was knocking out everyone and Ortiz had never been finished. It was the classic unstoppable force vs the immovable object.
Their first fight occurred in 2004 and lived up to the hype. Both fighters were throwing to kill and come the second round the Iceman threw an insane barrage of punches which put the Huntington Bad Boy to sleep and for the first time ever, Tito Ortiz was finished.
But this was only the beginning. The fans were still hungry and wanted to see more Ortiz vs. Liddell and in 2006 they were fed. But this time around, their fight would be for the title.
Liddell became champion and his first title defense in 2006 was against nonother than his long-time rival, The Huntington Bad Boy. Sadly for Ortiz, this fight would also not go his way. Chuck finishes Ortiz again but with a storm of punches in the 3rd round.
Finally, we see a close in the rivalry between the two in 2018 when they faced off in a spinoff fight hosted by Golden Boy Promotions, not the UFC. Tito ends up knocking out Liddell in the first round resulting in a huge upset and letting Tito get the last laugh.
2. DANIEL CORMIER VS. JON JONES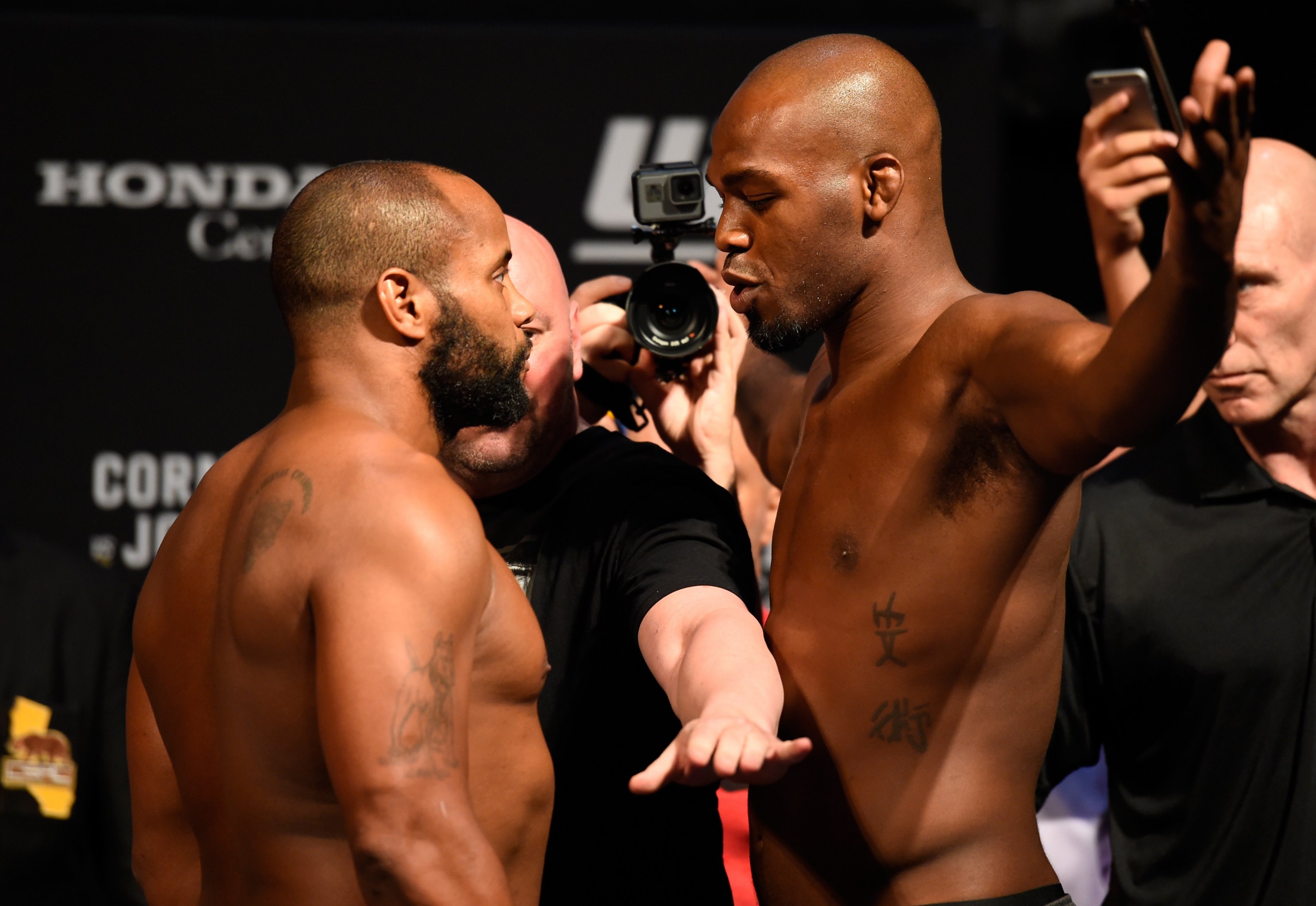 Daniel Cormier and Jon Jones had some serious bad blood. You could tell that these two men did not just try and fake it to get more viewers, they really wanted to kill each other when they got into the octagon.
The beef between these two stemmed back to 2010 when some comments were made backstage to each other during their first time meeting and almost instantly, they did not like each other.
Four years later a fight was finally scheduled between the two and during a media face-off, things turned physical when the two started scraping on stage eventually taking the whole stage down with them.
Their first fight didn't actually happen until 2015 but when it did, man was it entertaining. The fight was back and forth but in the end, Jones racked up a unanimous decision win.
In many press conferences and interviews after their first fight, we see that neither fighter forgave each other and the beef was still alive.
Later that year Jones was suspended and stripped of his title for a hit and run charge then suspended again due to a potential doping violation. It wasn't until 2017 when DC and Jones could rematch. But the tables were flipped and DC was champion while Jones was the challenger.
Jones ended up finishing DC within the 3rd round but was eventually ruled a no contest when Jones ended up testing positive again for doping.
DC is now retired and has announced that there will most likely not be a third fight between the two bad blooded fighters.
Conor McGregor vs. Nate Diaz
The story behind McGregor vs. Diaz could be an article all in itself but to summarize it all up, we see Conor human for the first time.
Conor McGregor in 2016 was the most popular fighter and possibly the most popular athlete of that year, so when a fighter with an 18-10 record shows up on 11-day notice and submits him in the second round the world went nuts!
This created a buzz in sports media and blasted Nate Diaz to superstar status. Of course, the rematch between the two was in the works as soon as the referee pulled Nate off of Conor.
The build-up for this fight was insane and was advertised everywhere you looked.
When the second fight between the two happened 5 months later, not only did it live up to the hype, it surpassed it. The rematch was crowned fight of the year and showed Conor McGregor back in the win column. This fight was also the most-watched UFC pay preview at that time only to be passed by McGregor vs. Nurmagomedov.
This rivalry showed amazing fights, huge media exposure, and major significance.
The third fight has been hinted at multiple times by both sides but not yet confirmed but as soon as it is, we'll be ready.
Don't agree with my top picks or think I'm missing some, let me know in the comments. I'll be sure to take a look!