"WHY WON'T YOU FALL?!"

BELLOWS MIDDLEWEIGHT SEAN "TARZAN" STRICKLAND, KING OF THE JUNGLE
With the spooky Uriah Hall vs Anderson Silva Halloween card officially in the history books, I suppose we can (and will!) talk all week about "The Spider" and his anti-climatic retirement fight. On the other hand, how about I take us on a respectful detour talking about that Sean Strickland vs Jack Marshman mid-preliminary banger? What a freakin' scrap!
Coming off a two year hiatus, Sean Strickland (21-3) delivered in a very big way, proving that a motorcycle accident and knee operation can't keep "Tarzan" from winning in the UFC Octagon. While he had success in the past at Welterweight, Strickland channeled his King Of The Cage Championship past and made his return at Middleweight. Perhaps as a result of the time off, Strickland looked solid and natural at this weight class. However, his opponent Jack Marshman (23-10) tipped the scales at an unfortunate one hundred eighty seven pounds.
Despite the last minute weight cut flub from Marshman, Sean Strickland and Jack Marshman helped prove last Saturday that you simply can't sleep on the prelims. The tone of the fight was quickly established early in the first round as a technical brawl began to ensue. Marshman, famously heavy in his hands, walked forward attempting to overwhelm Strickland with pressure and feints. Meanwhile, Strickland immediately revealed himself to be the more technical of the two, effortlessly keeping Marshman from getting inside by landing multiple counter right crosses and nasty body shots.
As the fight wore on, a sense of cinematic drama began to emerge that you just don't see often in this game! The commentary team along with "Tarzan" himself were all taken aback by Marshman's heart and durability despite being significantly behind on the judge's scorecards. By the end of the second round, Strickland was landing double the strikes to Marshman by putting together two punch combinations initiated with a steady jab while Marshman would spam power shots to the body. Strickland was so intent on continuing his handy work that the fighter coming off a two year hiatus refused a stool in-between rounds! If that isn't badassery at it's fullest, I don't know what is.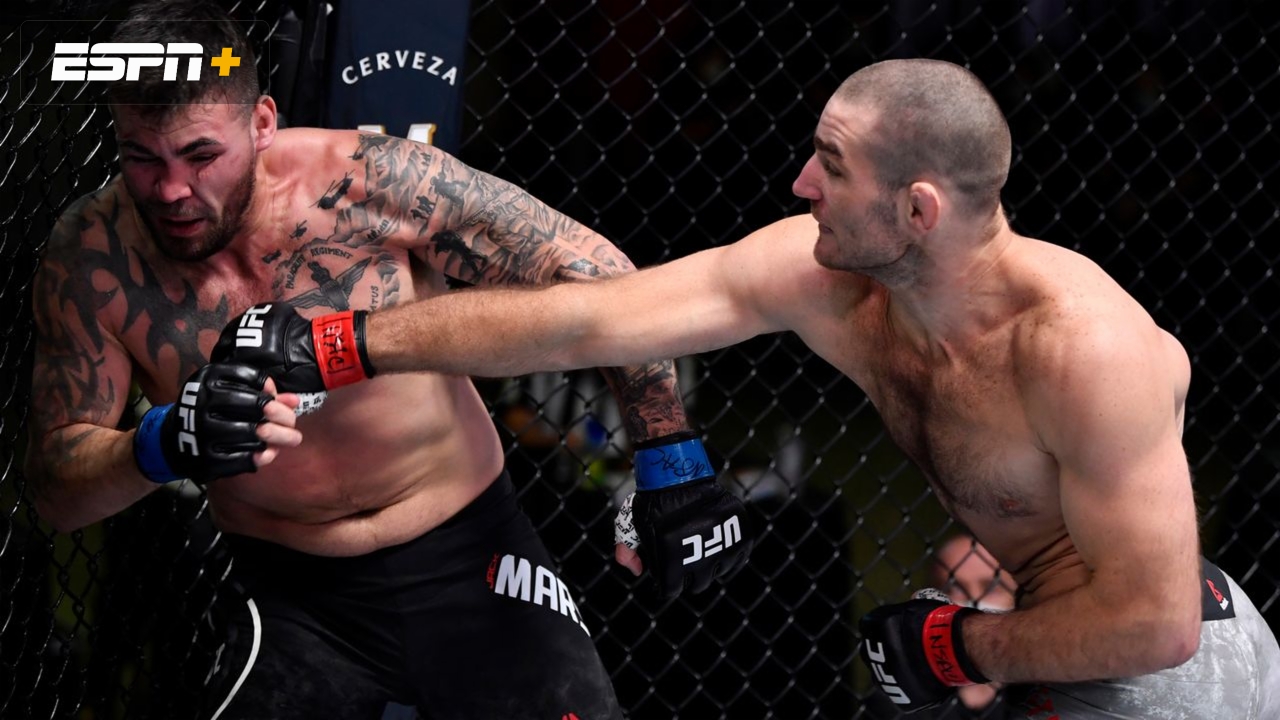 The third and final round proved to be the most fun in combat sports that I've seen in a long time. Jack Marshman was now clearly wearing the damage of Strickland's striking volume. Strickland obliges Marshman's gritty, "C'mon!" with a reply to "Fight me for the center, Jack!". The feints and jabs on both sides were largely abandoned at this point and these Octagon Warriors started swinging with everything they had left. "I knew I'd like ya," chimes "Tarzan" as he nearly clobbers Marshman with a right hook. "Bro, you just can't fall," says a slightly amused Strickland. "Why won't you fall?!"
The fight ended with a unanimous decision for Sean Strickland and an earnest inquiry on what his opponent is made out of. What the heck is in that water in Wales, Jack Marshman? The kind of trash talk that these warriors exchanged during this fight has become a little rare these days so when it occurs, it brings me back to the fun ol' Metal Mulisha days of the sport when guys like Nick Diaz and Frank Shamrock were weaponizing taunts and verbal psychological warfare on their victims. I personally love the drama and it gets the MMA audience wondering what's next for Sean Strickland. Personally, I would love to see him be a dance partner to Joaquin Buckley or Kevin Holland. Because fireworks, people!
What did Strickland show us Saturday?
He looks his best at Middleweight
His aggression and patience are still at elite levels
He can crack like a mo-fo at 185
If I had the unique opportunity to be on Team Strickland (and live in Arlen, Texas?), I would certainly advise staying at Middleweight. Welterweight is stacked to the gills and with "Stylebender" eyeing Light Heavyweight super fights and potentially vacating, being a Middleweight contender is a slightly easier path than grinding it out against the Magnys, Luques, and Wonderboys of the world which would conclude with a potential rematch with Kamaru Usman, who Strickland suffered a defeat to in 2017.